What are the Oscars without friends to shout at the screen with you when someone wears rosettes that look like they're copping a feel? No fun at all, obviously. Lucky for me some friends got decked out in jeans and jewels (it was a casual gathering, yet with a nod to Oscar) and came to yell at Charlize Theron with me. I mean really? (with Seth and Amy). REALLY?
So it was a fun time.
By the way, I love love love the Fug Girls for the red carpet rundown. Check them out, if you haven't already.
Anyway, back to the shindig: I made two kinds of tea sandwiches, lemon cookies, my skinny margaritas and a grapefruit champagne cocktail that knocked me on the floor because it was SO tasty that I couldn't stop myself. So tasty that I forgot to take a photo of it, even as I announced to everyone in earshot how good it was and how it was definitely going on BB&B in the morning. So tasty that I didn't wake up in time to write this post before morning class and am now posting it well into the afternoon and frankly Ithinkwe'veallbeentheresothere. OKAY?
Please continue for the recipes . . .

Cucumber Tea Sandwiches
white bread (I used wheat, but I think it would be better with white)
seedless cucumber
cream cheese/Tofutti
salt
Cover bread with cream cheese (or Tofutti, which I used for a vegan friend and it actually tasted really good and was far fewer calories, so I am now a Tofutti fan). Peel a seedless cucumber, cut very thin slices, and place on the cream cheese-covered bread. Sprinkle salt over the cucumbers. Put the top piece of bread on and cut crusts off.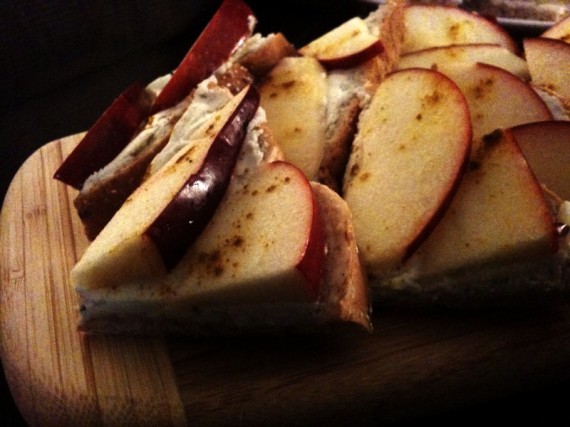 Apple and Boursin Open-Faced Tea Sandwiches
oat bread
Boursin cheese
apples
curry powder
Cover bread with Boursin cheese. Cut thin slices of apple, of whatever kind you like: I used Red Delicious, but green apples would be tasty also if you like a more tart flavor. Place on bread and sprinkle a tiny bit of curry powder over the apples.
It's helpful for spreading to have the cheese at room temperature and the bread a little frozen. I popped it in the freezer for about half an hour before starting. I cut the open-faced apple sandwich into triangles, and the cucumber sandwiches into rectangles. It's also fun to use cookie cutters to cut them into shapes.
Grapefruit Champagne Cocktail
champagne/sparkling wine
grapefruit juice
Grand Marnier
Pour a glass of champagne or sparkling wine 3/4 full. Pour in grapefruit juice until the glass is almost full, and top with a splash of Grand Marnier. Enjoy attempting to exercise more self-control than I did.