The champagne tasting was SO much fun! We partied so hard we almost missed the midnight countdown, and when we realized it was time, it was a bit of an interruption to the raging dance party going on in the living room. We counted down, threw some streamers, snogged a bit, and went back to dancing.
I'll post photos when I have some. I was a bit, ahem, too distracted to remember to take proper photographs, but I know others were more on their photography game.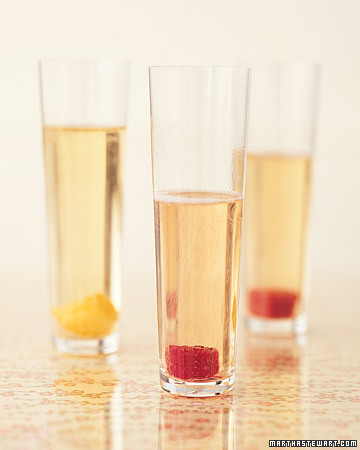 I have a few bottles of leftover champers cooling in the garage and luckily came across this Martha idea of how to play around with a champagne that might not be so tasty on it's own. And so easy peasy, and so colorful and different! Love it.
Sugar Cube Champagne

Give bubbly a boost with jewel-like cranberry-, pomegranate-, and apricot-infused sugar cubes. Working in batches, soak cubes in a bowl of fruit concentrate or puree until completely saturated. Remove with a fork, and place on a wire rack (don't let them touch); let dry overnight. Present cubes at a champagne bar, or serve them in passed drinks. The sweet, tangy taste will keep guests sipping long after the toasts.
Read more at Marthastewartweddings.com: Celebrate With Champagne