I swear I didn't forget V-Day. Actually, I had a menu for two that I tested several times but never fell in love with enough to post for you guys. I refuse to recommend anything I don't love, and this menu is still coming together. It also just kind of turned into Valentine's Week for me because I was at home with my mama and we did lots of Valentiney things, and the actual Day got away from me.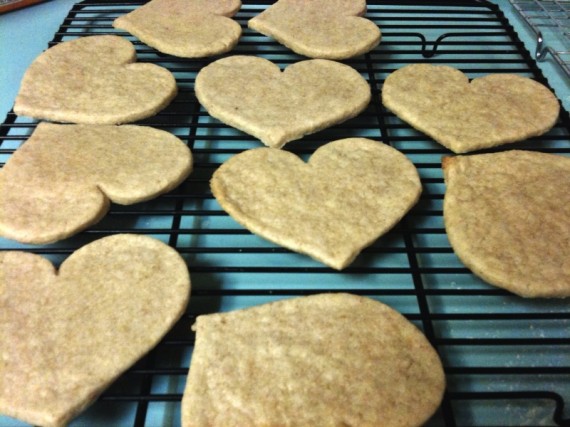 I've never totally understood why people dislike Valentine's Day. I do understand feeling alone and sad – of course – but when I was growing up Valentine's was a more generalized holiday on which you celebrate loving everyone in your life. Looking back now, that was a gift. My mom would always make a special Valentine's lunch or dinner for our family and we gave gifts to each other, and everyone in my class at school gave cards to each other. I always felt incredibly loved and loving on Valentine's Day, and it wasn't until I got to college that I learned that if you didn't have a significant other on the day, you were supposed to feel forlorn and unlovable.
Well, NO. Quite frankly.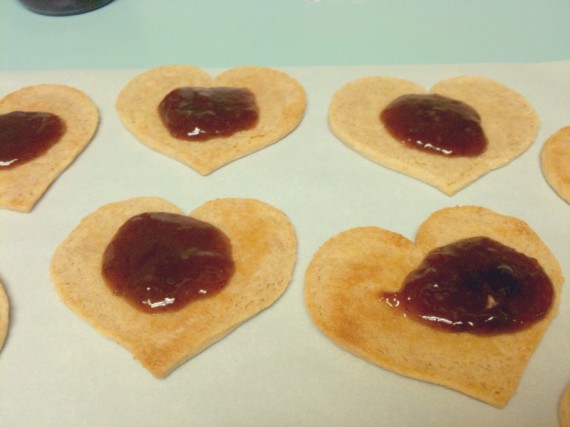 It's beautiful that there's an entire day dedicated to love! What a transcendent thing to focus on in our culture. I get to tell my dear friends how much I appreciate them for their undying support, get to tell my parents how much I love them, get to tell my sister how special she is to me. Yes, we should do that all the time. But we don't.
I really appreciate having a day when we are all reminded to remember the love that surrounds us, romantic or not. And yes, if you have a sweetheart, it makes for a wonderful holiday. But without one is just as good.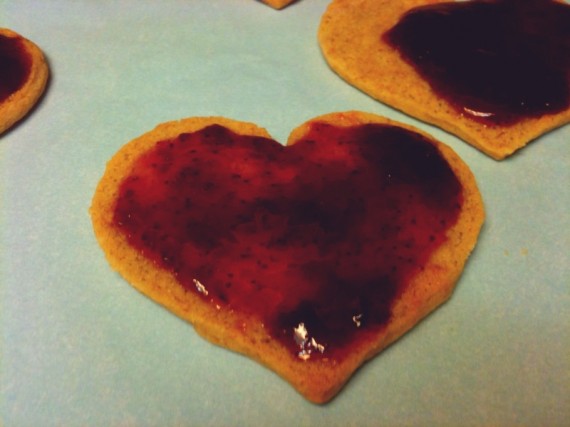 I was lucky enough to happen across this beautiful, gorgeous, delicately thoughtful post on the same theme of love taking all forms on Tea & Cookies. It's worth a read.
And after reading, I absolutely had to make Tea & Cookies' Valentiney cookies on Valentine's Day to celebrate it and love.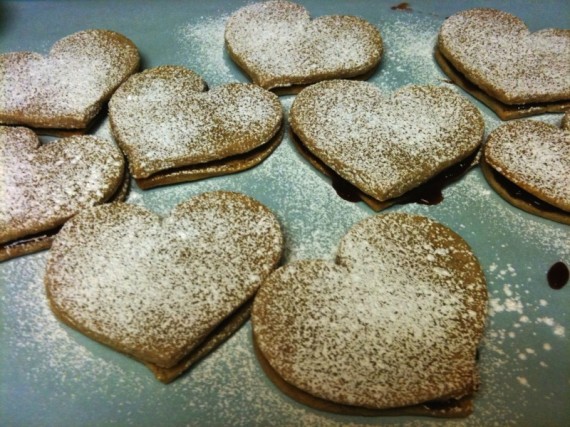 I gave them to people I care about and to some people I barely know. Just because.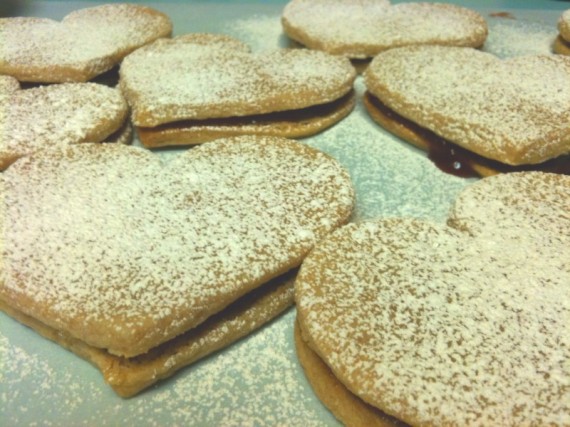 Please continue for the recipe.
Valentiney Sugar Cookies with Jam Filling
Adapted from Tea & Cookies
This recipe made ten large heart-shaped cookies for me (i.e. 20 total, 10 sandwich cookies). If you might want more, I recommend doubling it. Of course, the number of cookies will depend on the size of your cookie cutter.
2 cups all-purpose flour
1/4 teaspoon salt
1/2 teaspoon baking powder
1/2 cup (1 stick) unsalted butter
1 cup sugar
1 large egg, lightly beaten
2 tablespoons Raspberry Framboise (could substitute brandy or milk)
1/2 teaspoon pure vanilla extract
Raspberry jam
Powdered sugar
In a medium bowl, mix together flour, salt, and baking powder and set aside.
In another bowl, cream together butter and sugar until fluffy. Add dry ingredients and mix on medium until fully incorporated. It will be a very dry mixture. Add egg and liquids and continue to mix until incorporated. It will look crumbly but will hold together when you press on it.
Shape dough into two balls, press down into a disc shape, and cover with plastic. Chill in the refrigerator for at least one hour.
Preheat oven to 350 degrees. Line baking sheets with nonstick baking mats or parchment paper; set aside. On a lightly floured work surface, roll out dough to 1/8-inch thickness. Cut into desired shapes, and transfer to prepared baking sheets. Leftover dough can be rolled and cut until it is all used.
Bake until lightly golden, about 9-10 minutes; do not allow to brown. Transfer to wire racks to cool.
Spread a thin layer of raspberry jam (I used Sarabeth's Strawberry-Raspberry) on one side of half the cookies, and then lightly press the other half of the cookies onto the jammed cookies to make sandwiches. Sift powdered sugar over them to make them pretty.