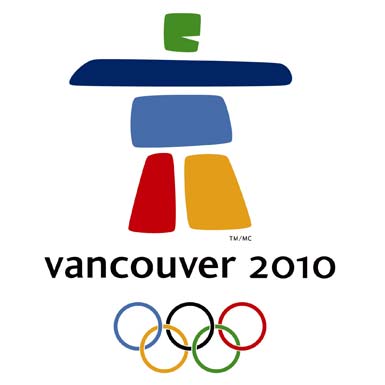 It needs three exclamation points because I'm SO RIDONKULOUSLY EXCITED that the Winter Olympics are finally happening! I'm watching ski jumping right now. Because every four years, let's be honest, we all need a little ski jumping in our lives.
There's a long story about why I love the Olympics so much, but I'll get to it sometime over the next two weeks. For now, suffice it to say that I watched a lot of Olympics when I was a kid and loving it was basically ingrained in me from birth. Naturally, I celebrate during the whole two glorious weeks.
Weren't the opening ceremonies lovely?! The draping in the shape of the mountains in Whistler was so artistically done, and the floor that changed colors (was it an LCD floor? how did they do that?) created the mood of each segment beautifully – and I like the icicle-esque Olympic Flame.
So how to have people over for the Olympics? High Rise Hostess has a great idea to combine après-ski flavor with the Olympics, which is an idea I love because après-ski is so rarely done outside of ski towns and as you all know, I enjoy it any time or place. She suggests serving fondue, mulled cider and beer, which just sounds like the tastiest combination. If only I had a fondue pot….maybe I should buy one because it sounds SO fun to all huddle around the pot and bring a little bit of Olympic and après-ski spirit into a party.
Or I could be really inauthentic, make a cheese sauce in a regular pot, and call it good. ;)