I came to Jackson Hole for the weekend to be with my mom. Our wonderful, precious, very loved dog died last week at age 15 and we've all been feeling her absence quite heavily. So I came home to try to make the house feel a little less empty.
Of course, I didn't know New York was about to get shut down by a blizzard, so my little plan to make a quick jaunt to Wyoming didn't work out very well when all flights to New York were cancelled today and yesterday. So, stranded and trying to keep up with schoolwork, I knew I needed an incentive. Straight to the Four Seasons went I with my enormous textbook and a promise to myself that I could have a big gorgeous martini in the lobby lounge after 50 pages of reading.
At page 75 (I was  a good industrious student – for once!) my friend Anne, who happened to be working yesterday, delivered me this lovely glass.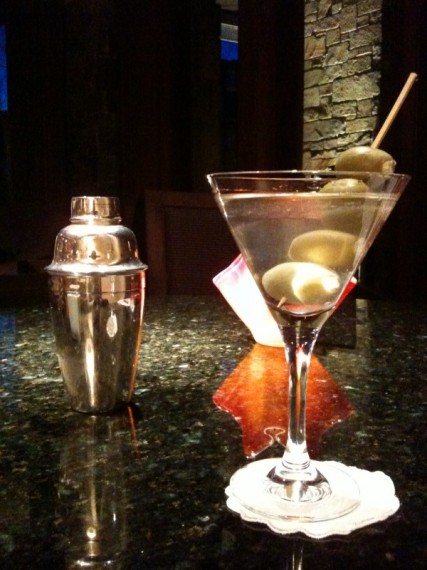 Blue cheese stuffed olives make me so happy.
My perfect martini? Excellent vodka (I like Belvedere), just a pinch of vermouth, as many blue cheese stuffed olives as I can fit in the glass and yes kids, I like it shaken, not stirred.
Here's the deal on shaking v. stirring. Stirring protects the ice from bruising and (in theory) doesn't release any water into the drink. Shaking bruises the ice cubes, which releases water into the cocktail. So yes, James Bond likes a slightly watered down martini, and so do I. It's tasty.
I don't think there's any one "real" martini. Make yours however you like: gin, vodka, shaken, stirred, dirty, on the rocks, olives, no olives. And if you don't know exactly what you prefer, well, the fun is in the testing!