From the Atlantic, a Hot Buttered Mix for Rum or Bourbon that sounds sinfully delicious.
Unless you're really into having daily hot buttered drinks, this obviously makes a huge amount and would probably be too much to make for personal use, but it would be perfect for a wintery party.
Serve with pretty cinnamon sticks that double as stirrers, and maybe whipped cream if you want to get really fancy with a little sprinkling of nutmeg on top.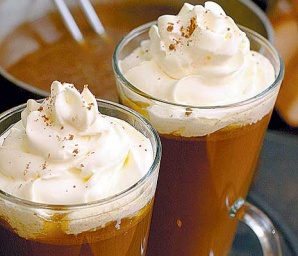 www.sonyasfamilyrecipes.com
Hot Buttered Mix for Rum or Bourbon from The Atlantic:
1/2 gallon of vanilla bean ice cream
1 pound butter
1 pound brown sugar
1 pound powdered sugar
2 teaspoons cinnamon
Melt all of the ingredients in a large pot over medium heat. The brown sugar should be completely melted (takes about 15 minutes). Stir well and let cool. Put in plastic containers and freeze.
Instructions to go with your mix: in a glass coffee mug pour 1 jigger of rum or bourbon and 2 Tablespoons of butter mix. Top with boiling water and serve.