On Valentine's Day last year, I ordered a drink at Blue Water Grill that was made up of bourbon and apple cider and it tasted like love in a glass.  So good, in fact, that its taste-memory stuck with me for months, until finally I broke down and decided I had to try to recreate it. Now, this cocktail is so tasty it has erased that memory of the original drink  – which is either the sign that I've done a good job or I've just had way too much fun testing the recipe :)
With its fall flavors and sweetness, it would be a fantastic Thanksgiving aperitif.
The Apple Tart
Inspired by a cocktail at Blue Water Grill
Makes two fairly large cocktails
4 tablespoons honey
1/2 teaspoon cinnamon
1/4 teaspoon nutmeg
2 teaspoons lemon zest (roughly one good-sized lemon)
juice of two lemons
3 shots bourbon
1/2 cup apple cider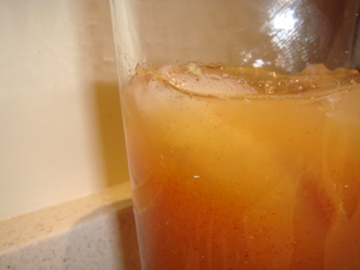 I love this drink because the apple cider and lemon don't overpower the heavenly bourbon, and except for the apple cider, I usually have all the ingredients lying around (which means that in a pinch I make it with pomegranate juice or even orange, although orange juice really doesn't meld as well with the bourbon).
I like my drinks stiff, so if you don't then only use 2 shots of bourbon; I also like my drinks to not be very sweet, so if you like the sweetness then use an extra tablespoon or two of honey.  Serve over ice or shake it and serve it up in a martini glass: it works no matter how you present it.  Oh, bourbon….