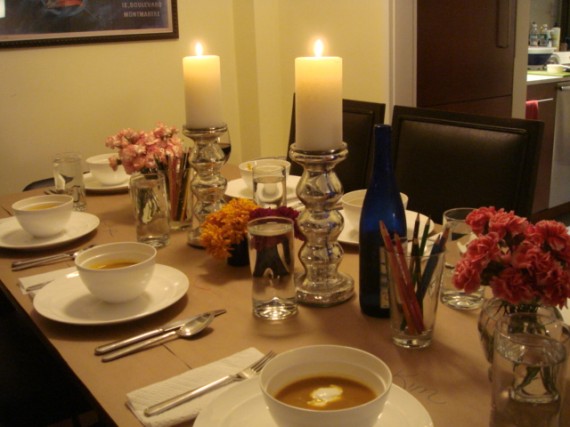 It was gorgeous and a wonderful evening. Alexis was down from Connecticut for the day and stopped by to stay hi while I was stringing the flowers for the ceiling. Of course I invited her to stay for dinner, and she was such a wonderful addition to our party – and got to hear lots of stories about Fairfield (where we all grew up) that either scared or intrigued her! Ha!
It's an artistic group, so it was really fun to create a colorful table with bouquets of color pencils over brown craft paper that begged to be drawn on. I used it as the easiest place cards ever – just wrote everyone's names above their plates.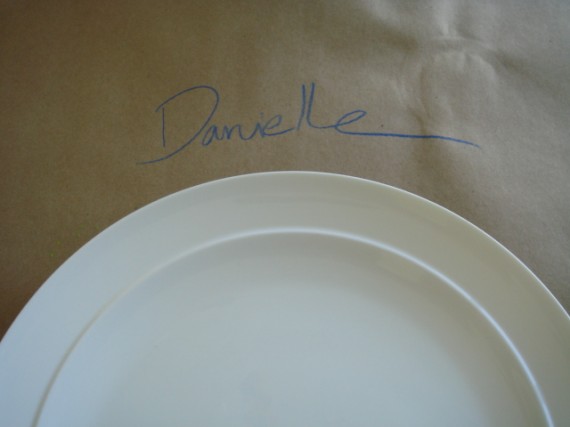 The flowers were simple, but added a punch of color. I bought four bunches of carnations in yellow and three shades of pink, and kept each color in its own vase rather than mixing them. It made the flowers look cohesive and at the same time, with the colored pencils, made the table as a whole very colorful.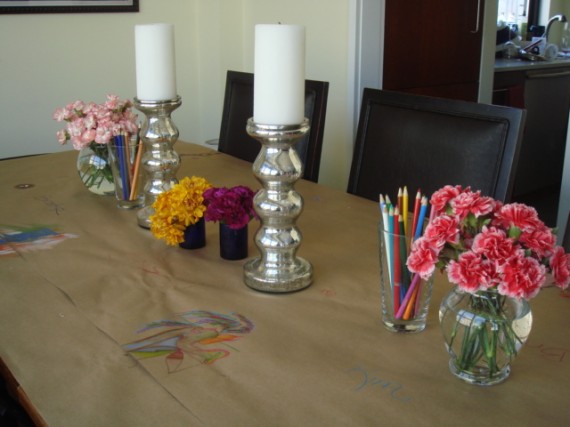 I then strung blossoms on three long strands of thread and hung them from the ceiling for something more festive and with a little bit of South Asian flair.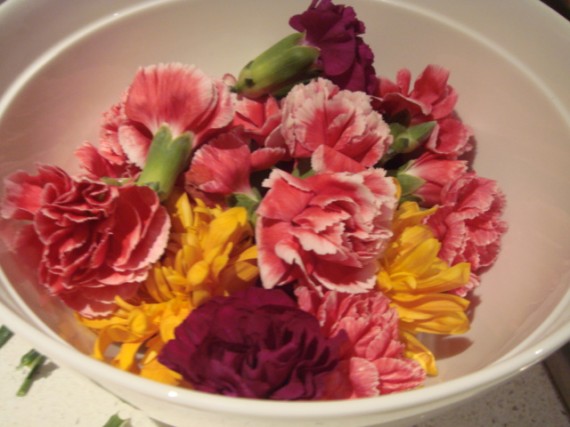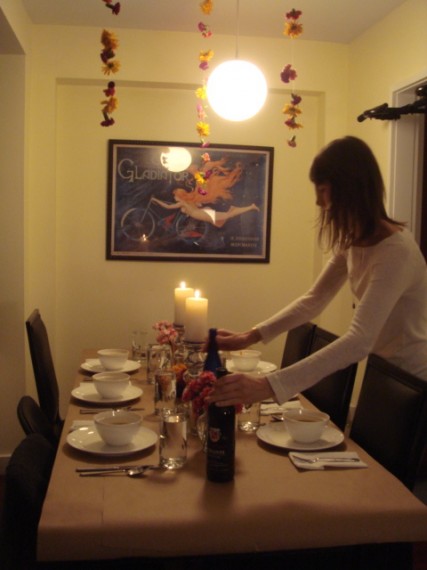 We made gorgeous doodles.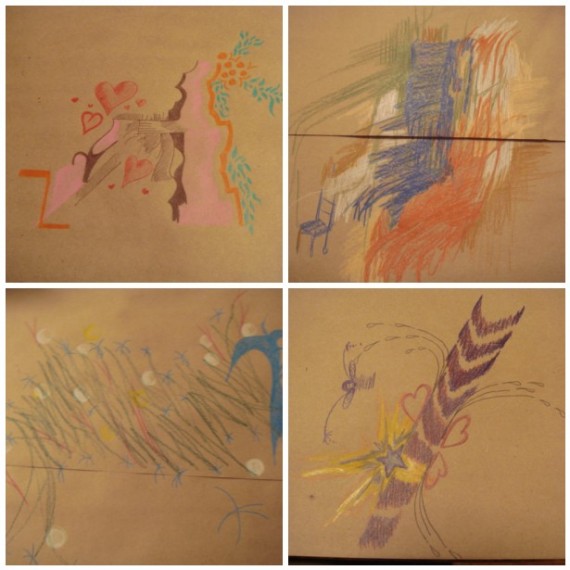 And the food…Anna brought her gorgeous macaroons made with organic sweetened condensed milk, but I was so consumed with eating them that I completely forgot to take a photograph. Just imagine perfectly browned, chewy golden macaroons, and you'll have a good sense of how lovely they were. Please continue for the post-mortem on my dishes.
Everything turned out really well except for the haricots verts, which I didn't cook quite long enough.
I prepped as much as I could earlier in the day. It took me about 2.5 hours to clean mushrooms and chop walnuts for the pasta, make the zucchini rollup appetizer, make the butternut squash soup, do the dishes and clean up the kitchen. I then mostly followed my plan for the evening, except that I totally forgot to take the soup out of the fridge on time. Instead, I remembered and started heating it at the same time I put the pasta in the oven. However, luckily, the soup heated very quickly and the pasta took longer than expected to bake, so it all worked out just fine and we did have dinner fairly on time – I think we started eating a little after 8, which to me is a win for my 7:45 goal!
I admit I was a bit worried these would be too boring to open the show with a bang, but they were fantastic. I liberally salt and peppered the zucchini and grilled it slowly on my stovetop grill pan, which gave it rich grill marks and the softness needed to roll them up. My one tip: make sure you cut the zucchini thinly enough to roll it!  My first two slices were far too thick and I didn't realize it until it was too late.  But don't worry – they made a nice addition to my lunch.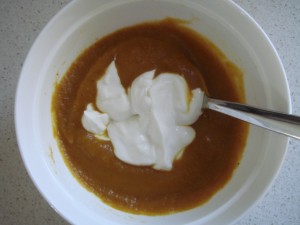 I don't know if it was just the curry powder that I bought, but I put in the amount the recipe calls for and found it quite spicy. I am very sensitive to spice, though, so – of course AFTER I put it all in, I realized this! – I should have started with half the amount and then seasoned to taste. I also found the soup very bland based on the recipe, so I added salt, pepper, Vege-Sal, nutmeg and cinnamon to taste. I probably used a few teaspoons of salt, about a teaspoon of Vege-Sel, half a teaspoon of nutmeg, and a sprinkle of cinnamon. I loved it with the yogurt and, best of all, it looked beautiful as the first course.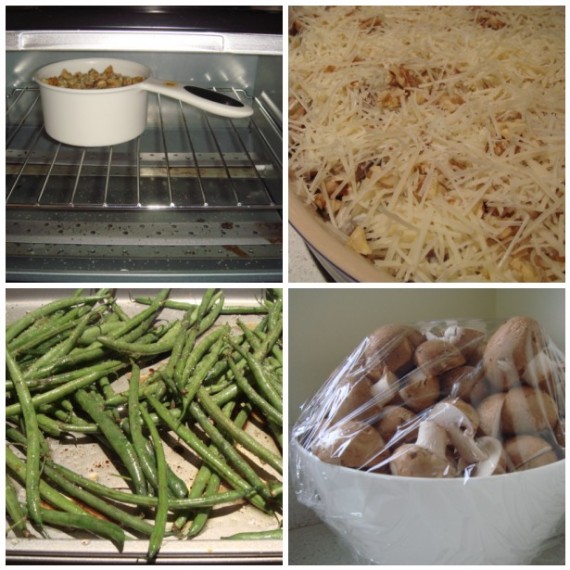 I cut the mushrooms and walnuts during my prep earlier in the day, and couldn't find a safe place to put the walnuts where they wouldn't be tipped over until I came up with the toaster oven! So of course I had to take a photo of my geniusness, haha. The grownup mac and cheese tasted tangy and creamy – and the mushrooms were goooorrrrgeous!
Unfortunately I didn't roast the haricots verts long enough – I just pulled them out of the oven when I took the pasta dish out, and while the bean I tried tasted nicely al dente, overall they were still too crunchy. I'm going to work on my recipe and I'll post it when it actually results in haricots verts that taste the way I want them to.
It was a wonderful evening – thank you for coming, everyone!