Here is my appetizer table from my most recent dinner party! I love presenting apps on a simple wood cutting board.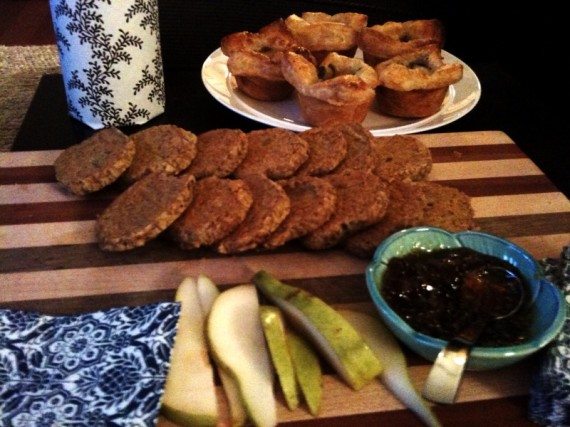 Appetizers:
Blue Cheese Crackers served with fig jam and pear slices
Click here for the recipe for the puff pastry tarts, adapted from Ina Garten.  This is a very Barefoot Contessa-heavy menu because her recipes are just soooo good and I can't help it.
Instead of the large puff pastry rounds she recommends, I cut smaller squares from the rolled-out puff pastry and tucked them into muffin pan cups that I had sprayed with nonstick cooking spray. I pricked the bottom of the puff pastry with a fork so it wouldn't rise, and then layered the onions, tomato and cheeses according to the recipe.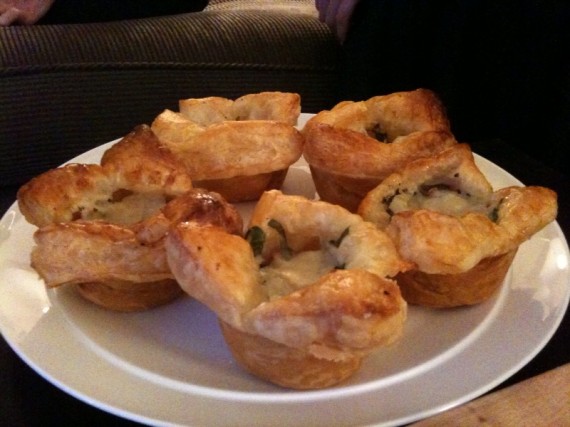 Blue Cheese Crackers (adapted from Ina Garten)
Really these are thicker than most store-bought crackers. They have more of a Melba toast crunch to them.
1/4 pound (1 stick) unsalted butter at room temperature – make sure the butter is very soft.  Microwave for five seconds if you have to.
8 ounces Stilton cheese, crumbled (about 12 ounces with rind), at room temperature
1 1/2 cups all-purpose flour
2 teaspoons kosher salt
1 teaspoon freshly ground black pepper
1 extra-large egg beaten with 1 tablespoon water for egg wash
3/4 cup finely chopped walnuts
Using a mixer, cream the butter and Stilton together for 2-3 minutes, or until smooth and fluffy. With the mixer on low speed, add the flour, salt and pepper and mix until it's in large clumps, under 1 minute. Add a few more tablespoons of flour if it is still extremely creamy (as mine was). Add 1-2 tablespoons of water and mix until it all sticks together (gather it together with your hands to see if it holds).
Dump the dough onto a floured board, press it into a ball, and roll into a 12-inch long log. Brush the log completely with the egg wash. Spread the walnuts in a square on a cutting board and roll the log back and forth in the walnuts, pressing firmly so the walnuts are pressed into the dough. Wrap in plastic and refrigerate for at least 30 minutes or for up to 4 days.
When ready to bake, preheat the oven to 350 degrees F. Cut the log 3/8ths-inch thick with a sharp knife and place the crackers on a sheet pan lined with parchment paper. Bake for about 15 minutes, then remove pan from the oven and flip all the crackers, and return to the oven for another 15 minutes. Cool and serve at room temperature with a quince or fig jam, or cheeses.