Craft is my favorite restaurant in New York. It has simple, mouthwatering food and fantastic service – and best of all, no gimmicks or faux coolness. It's just good. And it was five blocks from my apartment.
Anyway, this is not meant to be an advertisement for Craft. Tasting Table is doing a sous chef series and their first recipe is from Craft sous chef James Tracey, for Roast Chicken. I'm going to have to try this.
See the instructional video HERE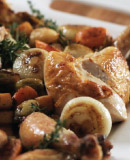 ROAST CHICKEN WITH SEASONAL VEGETABLES
JAMES TRACEY, CRAFT, NYC
Yield: 4 Servings
INGREDIENTS
For the Chicken
1 whole chicken (about 4 pounds)
1 sprig rosemary
6 sprigs thyme
1 sprig sage
8 medium garlic cloves
2 tablespoons extra-virgin olive oil
½ pound carrots, cut into ¾-inch pieces (about 2 large carrots)
½ pound turnips, cut into ¾-inch pieces (about 2 medium turnips)
½ pound rutabaga, cut into ¾-inch cubes (about 1 medium rutabaga)
½ pound of cippolini onions, peeled (about 8 to 10 onions)
½ pound of brussels sprouts, halved (about 10 brussels sprouts)
4 tablespoons (½ stick) unsalted butter
Salt and freshly ground pepper
DIRECTIONS
1. Preheat the oven to 350°. Stuff the chicken cavity with the rosemary, thyme, sage and garlic and season it liberally inside and out with salt and pepper. Using butcher's twine, truss the chicken.
2. Place a medium roasting pan on the stovetop over medium-high heat and add the oil. Using tongs to move the chicken, cook the legs and thighs on both sides until the skin is golden brown, about 3 to 4 minutes per side. Remove the chicken from the pan and set aside.
3. Add the carrots, turnips, rutabaga, cippollini onions and brussels sprouts to the pan and cook, stirring occasionally, until the vegetables begin to brown at the edges, about 5 to 8 minutes. Return the chicken to the pan, add the butter and transfer to the oven. Roast the chicken, basting every 15 minutes, until the juices run clear when the thigh is pierced with a knife, about 60 minutes. Transfer the chicken to a large cutting board and let it rest for 10 minutes before carving. Remove two garlic cloves from the chicken and reserve.
4. Place the roasting pan over high heat and add the reserved garlic. Bring the mixture to a simmer, stirring frequently, and cook until the vegetables are glazed and the liquid has reduced by about one-third, about 2 to 3 minutes.
5. Transfer the carved chicken to a serving platter, spoon the glazed vegetables around it and serve immediately.