IS THIS FOR REAL?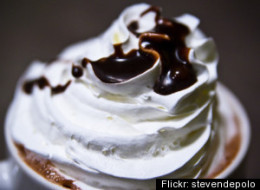 Alcoholic whipped cream is apparently a thing now.
I MUST try it.
From the Huffington Post:
It goes by the name Whipahol, "Whipped Lightning" or Get Whipped and comes in seemingly innocuous flavors, like white chocolate raspberry and cinnamon. But a can of alcoholic whipped cream — that's right, alcoholic whipped cream — has the alcohol content of three beers and it's causing concern on college campuses. But are students keen on the idea of getting drunk off of a dairy product?
Click here to watch the news report on it.