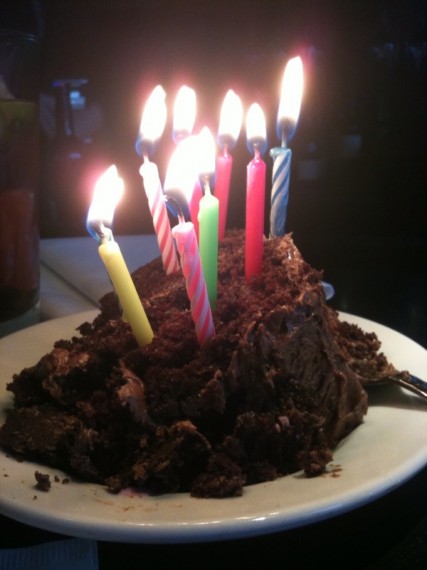 It's been an absolutely chock-full year. I literally have not cooked anything more complicated than boxed mac and cheese since March, which has felt like I'm missing a part of myself. But, it had to be done. I had to devote myself to finishing law school and studying for the bar – both of which are now OVER!
I'm so excited to get this BB&B part of my life back. There hasn't been any balance in my life for quite a few months, and feeling that balance come back is like a giant aaaaaaaaaaahhhh sigh of contentment. It feels good.
And, coincidentally, yesterday was my birthday. My mom made me a gooey decadent chocolate birthday cake, which is so good that the recipe might have to stay a family secret. It was such a wonderful birthday, filled with love and great meals and lots of champagne – exactly how every birthday should be!
With lots more change and several life decisions coming up about where to live and where to work, it feels good to return to this website, which in so many ways gives me a creative outlet. I hope you all will forgive my long absence; believe that I didn't want to leave!; and start coming back regularly again for dinner party menus, cocktail recipes, entertaining ideas, and of course many other recipes for all sorts of yummy noshes. I'm so excited to get started again and to have the time to cook!