My sister gave me a real Belgian waffle maker for my birthday – it flips over and everything! – and I immediately made a feast of 7-Grain waffles and chocolate waffles, with bananas and strawberries, maple syrup, and whipped cream to plop on top. The family all went a little nuts over them and we ate so much we all had to have a bit of a lie-down afterwards to recover.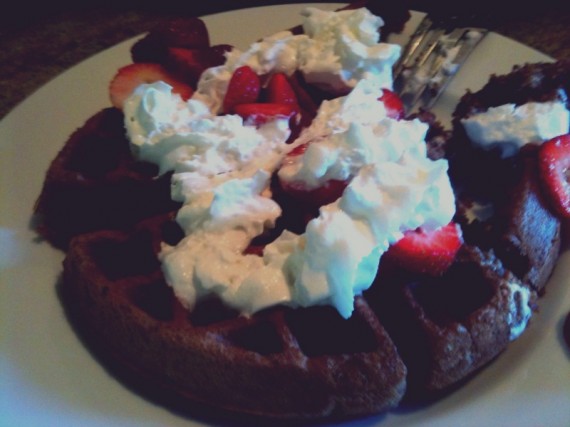 Eh. They were worth it.
For a party, it would be SO fun to make chocolate waffles – or pancakes, if you don't have a waffle maker (see this healthier recipe here, or this classic recipe here) – and lay out a buffet spread like an ice cream sundae bar. Nutella, caramel drizzle, hot fudge sauce, nuts, sprinkles (yeah, that's right: they're sprinkles, not jimmies), strawberries, raspberries, bananas, and cherries for on top.
It works as a brunch bar with some side proteins like eggs and sausages, OR as a dessert bar with vanilla ice cream.
Just warn your guests that they're going to have to be ready for joyous gluttony, a feast of gorgeous choices, and a good workout the next day to make up for it!