All photos ©United International Pictures (UIP)
I saw Scorsese's Casino for the first time the other day and LOVED the design ethos. The textures, the technicolors, the glitz and glamour of old school Vegas make me want to a) immediately fly to Vegas for the weekend, and/or b) immediately throw a fantastic Vegas-style dinner party.
Preferably both. Immediately.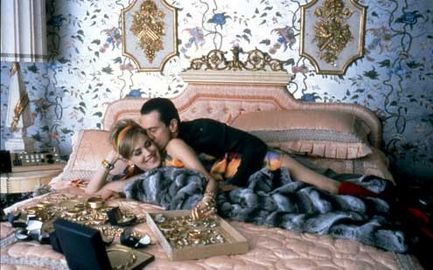 Have I told you that I love Vegas like it's going out of style? Which, OK, it kind of is; but still, it is my disneyland in the desert, where life only exists for the purpose of fun and lying by the pool in the sun.
I especially look forward to the flight in, because you fly over a whole lot of nothingness for a long time and then all of a sudden, out of nowhere, below you is a glittering man-made oasis with nothing but sand surrounding it that could not exist without our extraordinary ability to make something out of nothing. It's a giant paean to the gluttony and consumerism – and capitalist ingenuity – of our culture, and there's something beautiful about people being able to create a place that is entirely, solely, exclusively only for our own enjoyment of those sins. I love it.
And I don't even gamble.
I love the crazy colors and the glitter and sequins, the fact that you can walk around at 7am in a cocktail dress and nobody thinks a thing about it. People say you can do that stuff in New York without anyone caring, but you can't. (Not that I've tried it – what, lil ol me???!)
I love the fact that everything is an extreme high or low: the temperature, the prices, the winnings. Everyone I know either loves Vegas or hates it – there are no feelings in between.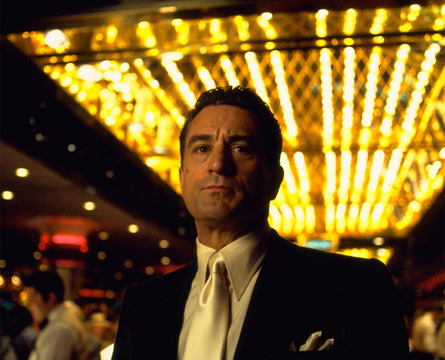 So what would a Vegas-style menu be? I think it has to be a little be a little classy, a little bit trashy, a little bit over the top and a lot of fun.
I'd start with a big round of cocktails and appetizers. Vegas is into wine these days, but old school Vegas liked their cocktails stiff and large. I'd serve classic martinis (vodka or gin as you like) with blue cheese stuffed olives (traditional with a twist), Cosmopolitans (because Vegas just is), and have some home-spiced bar nuts to munch on.
For the meal, steak is the obvious choice, and a perfectly good one, but it isn't my thing. I'd make delicately poached salmon with creme fraiche and caviar, creamed spinach as a side, and serve a huge gooey dark chocolate fudge cake with a good port for dessert.
Soooo decadent, I love it!
This menu is clearly not the only way to go  – I know you guys have some juicy Vegas stories and can come up with some great Vegas-esque menus. What would your trashy, classy, over the top decadent menu be? Leave 'em in the comments!