A farl, according to Merriam-Webster, is an oatmeal or wheat flour thin triangular cake from Scotland. Torrey posted this recipe and I made it for a healthy breakfast when my dad was visiting. There's nothing sweet in the recipe, so honestly I wasn't expecting a lot, but I knew if Torrey liked it it had to be good so I ventured forth.
Aside: I have discovered that I LOVE BUTTERMILK. That is all.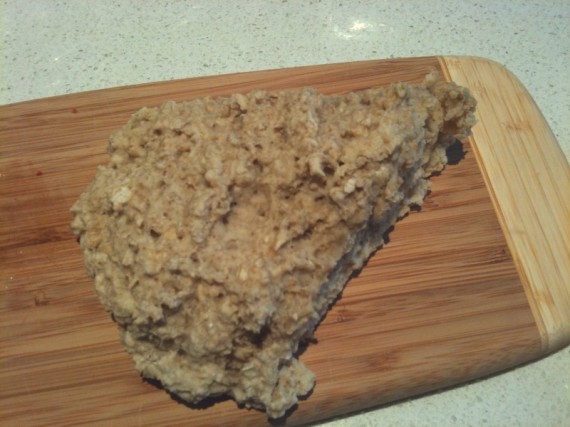 The farls came out thick, soft, crispy on the outside, and with a lovely flavor that really doesn't need anything changed. The buttermilk did its work well! These would be perfect for simple and healthy breakfast entertaining. Just cut into triangles and put out all sorts of garnishes: butter, jam, soft cheeses, yogurt, honey, maple syrup, nutella, marmalade, clotted cream, some fruits.
I served them with butter and jam, and later, ate them with a soft Brie-like cheese and cured meats. Then I left town for a week, and when I came back they were still moist! Amazing. I dipped a piece in greek yogurt for a tangy snack. In other words, I highly recommend with anything you can think of.
Please continue for the recipe.
2 cups old-fashioned rolled oats
2 cups buttermilk
2 1/2 cups sifted all-purpose flour
1 teaspoon salt
1 teaspoon baking soda
Mix oats with 1 1/2 cups buttermilk (reserve the remaining 1/2 cup for later) in a large mixing bowl. Cover and let stand overnight in the refrigerator.
In the morning, preheat oven to 350 degrees. Lightly butter or put parchment paper on a baking sheet.
Stir flour, salt, and baking soda together in a small mixing bowl. Gradually add flour mixture to buttermilk oats mixture to form a soft dough. Mix in remaining 1/2 cup of buttermilk. Put dough on baking sheet and shape into a flat circle, about 1 inch thick. Bake for 35-40 minutes, until set and crispy on top.