Well, things have been a little rough around here with the passing of my grandma, who was my mom's only immediate family besides my sister and I.  I've been writing pages and pages about her very interesting life and want to condense it into something readable, but am finding it difficult – hopefully will manage it soon just to make myself feel like it's finished and I can stop writing every detail before I forget.  And I tweaked my back last week on my way to California for the funeral, so I'm right now sitting up very straight with a hefty pillow behind me.  My mom is convinced that your back's health is a metaphor (or simile?) for how supported you are in your life, so I guess according to her I'm not supported enough – though I feel like that's a big world of excuses just begging you to come in, and really I just picked up my suitcase wrong when getting on the plane last week.  I have lots to do for Christmas that doesn't involve lifting or twisting; there is no snow here anyway, so I don't feel badly about not being able to snowboard for another week or so; I have a massage therapist who is incredibly good at inflicting a lot of pain on me; and with family and friends all descending on Jackson Hole for the holidays everything is really just fine. This is even my view while I write, looking south into the valley and over the Snake River: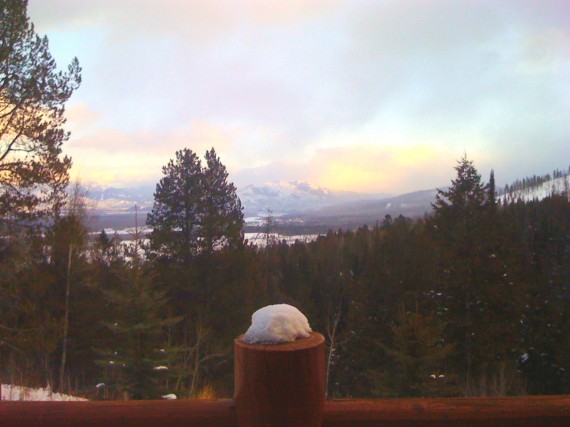 Plus, I'm completely obsessed with Christmas in general and love love love this time of year!  Lights everywhere, merry people, and presents galore for all the good little girls and boys – and everyone I love was very good this year ;)
I'm trying to come up with my Christmas Eve menu.  We always have fried oysters for Christmas Eve; I don't know why, yes it is a strange tradition, and I think it just originated because my mom likes fried oysters and who goes to the trouble of such a thing on non-holidays?!
So it has to be centered on the oysters, and I really want to make brussel sprouts just because they're in season and I'm completely obsessed with them right now, plus they're also, like the oysters, a little different and fun.  But what else?  Oysters and brussel sprouts do not a meal make.
A nice simple potato would be quiet enough to meld with the strong oyster flavor and also go well with a nice aioli sauce for the oysters.  I like this plan: oysters, new potatoes, and brussel sprouts (please continue for the recipe) for the meal.  Something like poached pears for dessert, because my mom has to have her fruity desserts, and I think no appetizers because we're all going to be crammed into the kitchen cooking and frying until everything is hot and ready to be devoured.  Patience is not a virtue in my family when there is hot food waiting to be eaten.
Bobby Flay's Brussel Sprouts with Pomegranate Seeds and Walnuts
Serves 8
Ingredients:
2 1/2 lbs Brussels sprouts, trimmed
Olive oil
Salt and freshly ground pepper
1 stick unsalted butter, cut into pieces
1/2 cup pomegranate seeds
1/4 cup toasted walnuts, finely chopped
Method:
Preheat oven to 375 degrees F. Bring a large pot of salted water to a boil. Add the Brussel sprouts and par cook (about 5 minutes). Drain well and place them in a large roasting pan. Toss the sprouts with olive oil and season with salt and pepper taste. Roast the sprouts for 5 to 7 minutes or until just cooked. Remove from the oven and toss with the butter, pomegranate seeds and walnuts.