A few days ago, I watched Anne Burrell make Roasted Cauliflower Salad with Radicchio, Pecorino, and Fried Capers, which looked soooo yummy and perfect for cool weather. It also sounded like it could be paired with a lot of various dishes, which is something I always like when thinking of menus.  It will add the saltiness and bite component to the group.  She paired it with stuffed calamari, but I know a lot of my guests are a bit squeamish about calamari (though I love them) so I generally stay away from such tentacled things in the interest of making all my guests comfortable.
Sorry, that photo is really unappetizing. But really, we all need to be comfortable with how our food looks before it's cooked, right? Consciousness about where our food comes from and all that? I really like eating calamari but wow, it is extremely unattractive. So, moving on to my calamari-free menu…
Cauliflower is kind of a plain vegetable, and I've found that many people think they don't like it because it doesn't have a definable taste – but really it just takes on the flavors of whatever you add to it, which makes it a lovely base for a dish with strong salty flavors like capers and Pecorino cheese. Anne also swears that roasting the cauliflower and making it all brown and crispy makes it taste heavenly, and we all know how we like browning things here at BB&B!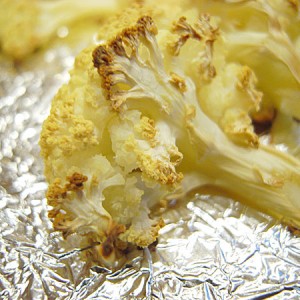 Khymos
I think this might be just the thing for a meal during my upcoming visit to Atlanta. My dad has a horse farm outside of the city, and it's a gorgeous place with a few hundred acres on the Chattahoochee River – you would never know you're half an hour from downtown Atlanta and ten minutes from a huge suburban Whole Foods. It's so funny: whenever I leave Manhattan, I'm always shocked at how big the grocery stores are! I guess I just get used to the citified tiny sky-high aisles into which they pack everything they can and, while they somehow stack more than you'd expect, it's impossible for NYC grocers to carry as many products as an enormous genuine classic Americana supermarket. It's a treat to wander around wide aisles with a cart and buy lots of things that are heavy knowing you don't have to physically carry them home as I usually do here – just throw them in the car!  It's so exciting. And then, when you get home, there's a kitchen with a lot of counter space and a big oven to cook in! It's really a genius system and very exciting to the city dwelling cook – though it probably seems insane to be so excited about such things to everyone else, and all I have to say is fine, there are definitely some things New York just cannot match (though we do have home delivery and skyscrapers, so there!).
So I'm looking forward to a fun weekend in the country with nothing to do except ride horses, cook and sleep.
Fall in Atlanta Menu
Homemade Applesauce with Whipped Cream
The spicy arugula and sweet orange should match well with the salty cauliflower salad, and chicken just sounds goooood. I always like to have a dessert, even with simple family meals, but I don't know how much time I'll have to make a complicated dessert and anyway my family is on a super health kick these days (the P90X craze has hit them). So I'm going to go with a simple applesauce made with sweet apples in season and maybe just a little tiny hit of honey only if necessary, but no other sugar added. I might jazz up the whipped cream a bit – I'll write this recipe as I make it! So stay tuned :)